12 June 2020
Street Art returns to the Palais Brongniart !
Operation Street Packing 2 on the columns of the Palais Brongniart
In collaboration with the City of Paris and the École Professionnelle Supérieure d'Arts Graphiques de la Ville de Paris (EPSAA), the Palais Brongniart renews this year "StreetPacking", its street art event. Or how to dress the main facade of the Palais for a summer with a great ephemeral and modern work.
From June and throughout the summer, the message "I missed you..." will be displayed on the columns of the former Paris Stock Exchange. A slogan born of a reflection carried out in recent weeks by 19 students from EPSAA, inspired by the current health crisis and based on the following instruction: "All, French citizens and companies, are facing a major and unprecedented global health crisis. In this period of confinement where companies and employees are forced to operate differently, what could be the impact of this episode on the model of our society tomorrow? Beyond the tremendous solidarity shown by many players, what are our aspirations for tomorrow? What are your vision and hopes following the changes that this period will surely bring about in the long term? As with any great change and event, slogans/images/phrases have appeared, imagine yours. »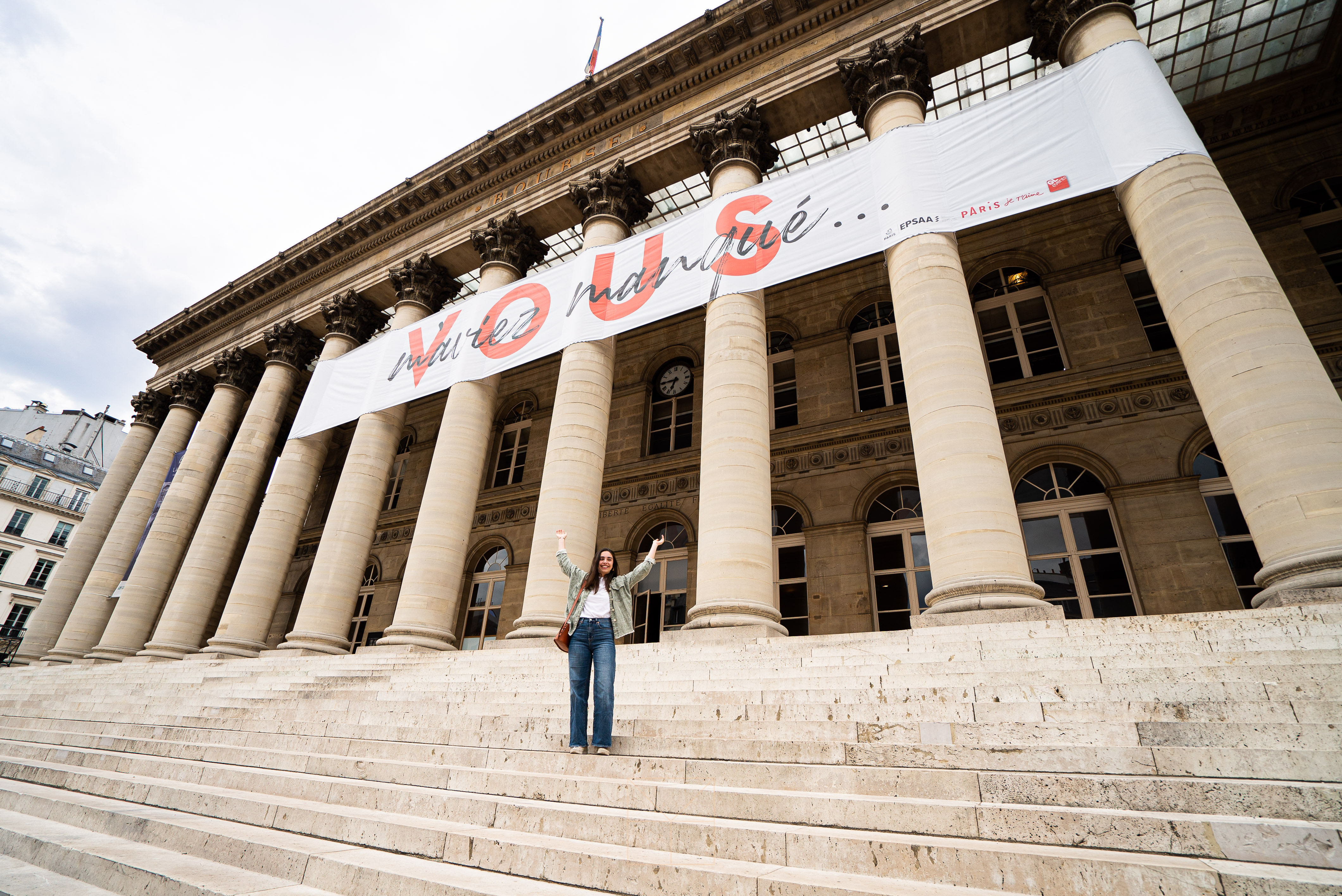 ​
​
After a first phase of work, it's the formula "I missed you... " was chosen. The students then associated it with specific colours and design to root it as well as possible in the present time. A jury made up of GL events employees, members of the EPSAA, the City of Paris and the Paris Convention and Visitors Bureau then elected the winning entry for this year's 2020 edition.
With "StreetPacking", the Palais Brongniart wishes to take advantage of its visibility to give a voice to the younger generation and embody a strong common message of unity and resilience. This large-scale initiative will enable Parisians to reappropriate this historic monument and to rediscover its strong dynamism in the very near future.